I realized when I posted a big ol' pic of Marie a little ways down that I hadn't actually shared that much of her. Which is funny, considering how many photos I have. I've been taking as many pix of her, easily, as I did of Bobbie. Waiting 5 years in between kids really restarts things. (And,
as MattG recommended
, I do indeed take video of her frequently as well. With a Sony CyberShot, coincidentally.)
To keep this from becoming
too
much, I've made a slide show on Photobucket which I'll post momentarily; I'm also going to throw some individual photos up after the break. If I do anything well, it's make cute babies.
I did my best to have the photos in this go in chronological order, starting with 3 before she was even born. No birth photos. Erik was smart enough not to document
that
event.
Photos:
This is just a couple of days old. She has the sweetest smile, and she rewards me with them frequently.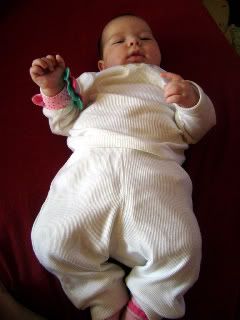 I love this girl in white!
One of those pix where you don't know what you've taken until after the shutter clicks. It makes me laugh so hard.
Sometimes I manage to overcome my simmering hatred of pink.
Other times, though, I go in the opposite direction.
She mastered the death stare quite early.