I just have to.
In comments to
this post on the DADT repeal
, Bushwack says:
Seriously the DADT issue is so stupid it hurts...First off and this is really the pisser, why is it so important for the gay folks to be "Openly GAY? should we now start being "Openly Heterosexual" Should we start wearing shirts that label us by our sexual desires?

I don't give a damn if your gay or not gay, but I find it ridiculous that a sexual preference is how you wish to be known...

Also I worry about the next step. The gay agenda, much like every lefty issue is never satisfied. The new cry will be "I was reprimanded because I am gay" the new cause will be there needs to be a quota of gays in each unit. (These are just possible not saying it's going to happen) then there's the morale issue with some, say it's 10% of Marines who have a serious issue with it, that's a lot of soldiers that are now going to branded as Homophobes by their own as they are fighting to protect them.. This, again I say shouldn't even be a damn issue....BE gay, have fun but keep what you do in private private.
Where to start? How about:
The issue of being "openly heterosexual." Seriously? All heterosexuals are openly heterosexual. We're by far the dominant sexuality, so we don't even think about it.
I was a submariner's wife in a past life. When the Boise was deployed, the FSG sold raffle tickets to determine who'd get First Kiss. It wasn't called that on accident, you know. In fact,
the Boise just got back from another deployment
. With apologies for the "play" symbol in the middle ('cause I suck at trying to get clear thumbnails of videos):
Holy shit, those heteros aren't keeping it private!
Here's another flagrant display of sexual orientation: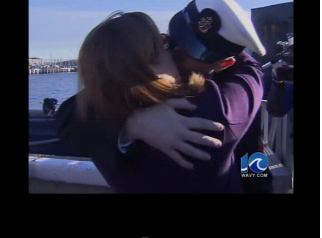 Straight folks just don't hide it.
As for the t-shirt issue...Plenty of dudes
do
, in fact, declare their sexual orientation in that manner. To wit:
And that's just from one site.
(I love you, t-shirt hell.)
Hell, I have it on very good authority that, at one time, the entire TM division on the Boise knew my bra size.
So yeah, you can say you want gays back in the closet. But don't pretend that straights are circumspect. 'Cause, well, we're not. And gays aren't any more out there than we are. Even in their own territory, they aren't in your face about being gay. I can rattle off a whole list of gay-owned businesses here in San Antonio. I can tell you who on Mary Alice Cisneros's staff is gay. I know homosexual lawyers, homosexual bartenders, homosexual social workers, homosexual waiters, homosexual business owners, and at least one homosexual loan officer. NONE of these men are in the closet, but if you talked to them while they were on the job, you wouldn't know they were gay.
It is ridiculous to think that gays who are openly homosexual are any more demonstrative of their sexuality than heterosexuals are. And you know what? That's not what this is about, anyway. That's not what the functional change of DADT's repeal will be. When I was married the first time, I was able to go onto the pier and welcome my husband home. Why in the living
hell
should gays not be able to go welcome their sailors home too, without fear of ending his career? Why shouldn't homosexual military members be able to carry a picture of their partner just the way heterosexual military members can? THAT is how the repeal will manifest itself.
Also, as usual, Skippy has
the perfect take on the issue
:
I support the repeal because I know that being gay isn't the same thing as being a leering, perverted rapist.

I support the repeal because I know that the sphincters of uptight open bigots are not as irresistibly desirable to homosexuals as many people are afraid of.

I support the repeal because I have known many fine soldiers, airmen, seamen and marines who were gay. After they had been kicked out.

I support the repeal because I have served with several fine soldiers who were functionally out of the closet, to no ill effect. (I'm looking in your direction Mr. "Don't Ask" vanity plate.)

I support the repeal because I served with a man who, for the sake of his own career denied his true orientation to me despite being a good friend, even though he wasn't fooling anyone.
Really, read the whole thing. You'll be glad you did.