We all like to flatter ourselves that we were the apex of our ex's existence. Sometimes it's true, sometimes it isn't. Rarely, however, do we get photographic evidence of that.
I did.
This
photo is what I alluded to in my Sunday post:
The caption, straight from the newspaper:
Samantha Parker and her boyfriend, Robert Morse, wait for Morse to go through the process of getting his room at Haven for Hope after staying in Prospects Courtyard for about a month. He was among 20 people mocving from the courtyard into rooms at Haven for Hope on Saturday. Parker has been in her room for a couple of weeks.
In a comment on my last post, Dave said, in part, "You know, I always wanted to be in the paper but I'm pretty sure when the photographer showed up at Haven For Hope, I'd have passed on the opportunity."
Ya
think
?\
Of course, this isn't the first time my ex-husband has been in the newspaper. I happen to have
that
photo too: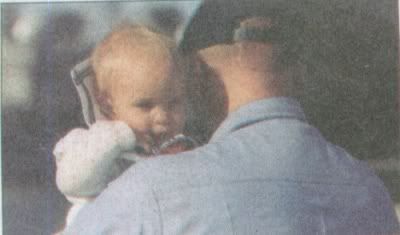 This was in 2003--back when we were still married, obviously--so I no longer have the caption, but I remember the occasion well, as it was the return of the USS Boise from Operation Iraqi Freedom.
Let me make one thing clear before I go on. I have the greatest sympathy for people who wind up in the homeless shelter through no fault of their own. My ex-husband isn't one of those people.
Now, a bit of clarification on that caption. Prospects Courtyard is, well,
a courtyard
, an outdoor area designed for the homeless who refuse to come inside and sleep. So my ex-husband has been sleeping outside for a month. Although the caption says that Samantha has been in her room for "a couple of weeks", in reality she's been at Haven for Hope about
six weeks
. She went to HfH after being moved from her second homeless shelter when the city consolidated everything at the Haven. Before
that
, she had been staying at a Salvation Army shelter until she was kicked out, ostensibly to make room for new arrivals with children. This is why I call her the Hobo Girlfriend--she's been homeless for most of her relationship with my ex, and hasn't done jack shit to make changes. (The girls have told me she moved here to go to school, but quit because it was too hard.)
So, what the hell is my ex doing living in a homeless shelter? Got me there. Sam doesn't allow him to talk to me (from what the girls say, she flips the hell out every time I come up as a subject). He has claimed his parents kicked him out. I don't believe it for a couple of reasons. For one, he's their sweet baby boy and can do
no
wrong. For another, though he's only taking the girls during the daytime--if that--one weekend day, he's still
taking them to his parents' house
. Sounds to me as if that being kicked out thing was just a ruse...to get into the homeless shelter. I
know
it makes no sense. I am piecing things together here. The girls told me right after Sam moved in to HfH that she told their father he
had
to stay there awhile with her. I swear I am not making this up.
If it seems completely improbable to you that my ex-husband would voluntarily go to a homeless shelter to please his girlfriend, believe me when I say I include myself in that number. I can understand liberals most of the time, even anti-gun liberals. But this? I am lost. It doesn't make a lick of sense. He can't keep the kids overnight at the homeless shelter, which means his very generous visitation is shot to hell, apparently voluntarily. He's gone from having them 6pm Friday to 6pm Sunday to, at the most, noon to 6pm on Sunday. (He
could
pick them up earlier in the day. He just doesn't.) And that's not even every Sunday. He voluntarily gave up his June visitation for the entire month, only taking them for part of Father's Day.
Money...Well, he's gone through a couple of good jobs. He worked at Roto-Rooter for two years and was forced to quit because he was the lowest-earning employee. Counting people just out of (if not still
in
) training. He landed on his feet after that, getting a job at Allied Barton.
What happened to
that
job? Heh. Funny story. On his way back from a trip to Austin to meet up with a gal he met online (who was inexplicably not pleased with the fact that he brought his kids along on the first date), he called his other girlfriend (who is, I am also not making this up, the ex-wife of another of my cousins--the brother of the cousin he left me for, naturally) and she was at the airport meeting a friend of hers. He objected to this, and registered his displeasure the next day by taking a Via car (Allied Barton provides physical security for Via, among other companies) to her house and threatening her with his gun. Mind you, even
his
version of the story--that he went over to visit her while he was at work and she asked to see the gun so then he showed it to her and she called the police--doesn't make him look good. So
that
job went abruptly bye-bye, and for some strange reason none of the other security companies in town want to hire him. (Just offhand, I'm guessing this also puts paid to his plan to go for his TCLEOSE at SAC.) He now, in his own words, has a protective order against her so if she shows up he has to leave. Which I am expected to believe.
He actually
is
working right now. I strongly suspect that this stunt with the homeless shelter is the opening move in getting his child support reduced, as what's supposed to be 30% of his income is now more like 50% (and for the past two weeks I haven't gotten even a full current allotment, much less the extra to make up for the rather large amount of arrears he owes). I'm not certain he's smart enough for that, though.
Still, none of this makes sense to me, either as an outside observer or as the woman who used to be married to him. Y'all, there was a time at the beginning of our marriage
where he worked an extra job in addition to his commitment to the Navy, just because he wanted to have more spending money
. But now he is working what seems to be at best a part time job and living in a homeless shelter, and this seems like a good idea to him?
Let me further illustrate something here, for those of you not familiar with San Antonio. Realtor.com has
this apartment on Hermosa street
that rents for $350/mo. Craigslist has
this apartment
for $349/mo. Apartments.com has
this listing
, which also has a unit for $350/mo. When looking for the place Erik & I are moving into (which, by the way, is only $500/mo), I saw several listings for 1bd apartments for
less
than that.
It's not as if it would be expensive or difficult to move into an actual home of some sort.
Make no mistake, there
was
a time when he would have gotten a second job (especially given that the current one seems to be part-time) and done whatever the hell he could to not be on the street. And not to put too fine a point on it, but that pistol he's probably not even allowed to have anymore could probably be sold for damn near as much as he paid for it (if not more, considering that he got a discount), as there was/is a waiting list. And the proceeds from it would easily pay for the deposit somewhere. (Glock 17, for the record.)
But now...Now, sleeping outside for a month before moving into the homeless shelter with his girlfriend
(who, by the way, I adore--she's good for shit to laugh at, having said, among other things, that Pluto is just as big as Earth, it's just so far away it looks small, and that there used to be dinosaurs on other planets too)
seems like a good idea.
Pray they have really good mental health screening at Haven for Hope.
(Being mean, I waffle between Narcissistic Personality Disorder and Hystrionic Personality Disorder; but in reality it's probably BPD like his mother.)