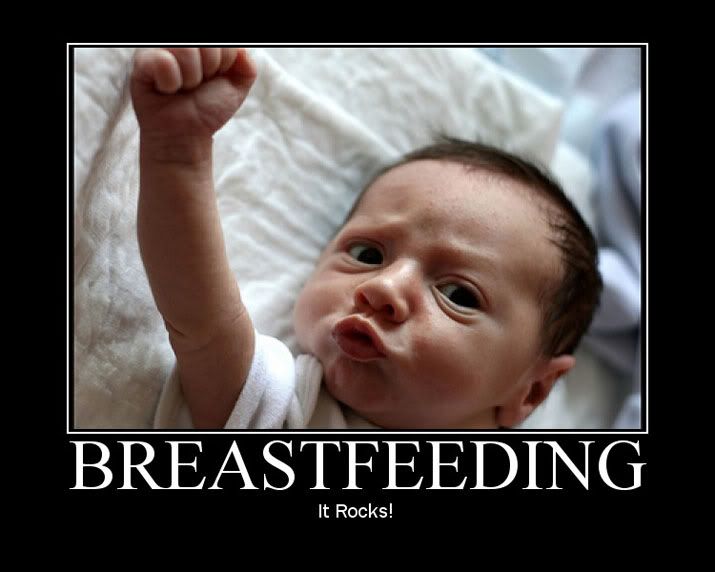 I've been mulling over this post for a while. It's more one for the girls than the guys, so let the adorable baby above be your warning.
Some time ago, I got in trouble on MySpace for a picture similar to this one:
It wasn't this one exactly. The one it was is on another, nonfunctioning computer, so I cannot use it as my example. Anyway, the MySpace breastfeeding controversy was the forerunner of the Facebook breastfeeding controversy.
I find Facebook's issues with nursing especially amusing since this is my Facebook profile picture:
Yes, the first picture of me shows more breast, but really, not by much. And yet it's the first one that is considered improper for public gatherings.
The Facebook controversy has exposed, again, one of American society's dirty little secrets. We don't get breastfeeding. Especially not if-gasp-the woman has the nerve to nurse in public. Especially if it's, like, at the dinner table. Where people are eating. Because, gosh, we just can't go around feeding babies at the dinner table when everyone else is eating.
This "controversy" comes up, and I hear the same tropes from the anti-nursing crowd. We support breastfeeding, they say, just do it discreetly. You can't go around whipping a boob out. You could traumatize a small child. You might even give a boy the impression that
breasts are used to feed babies
. And we can't have that, can we?
Know what my favorite argument is? "Sure, breastfeeding is natural. But so is going to the bathroom, and we don't do
that
in public."
I shouldn't even address this. I shouldn't even
have
to address this. The people who make this argument should be patted on the head and sent off to mop the floors, because that's about all their cognitive powers are good for. But I keep hearing this, and so I am going to address this.
Breastfeeding is not analogous to urinating. Duh. It is FEEDING A BABY. The ONLY thing it is analogous to is--wait for it--EATING. To compare it to anything else is a straw man argument, and a particularly poor one, at that.
If you can tell me--honestly tell me--that you do not want to see any babies at all being fed in public, then I will support you in stopping breastfeeding in public.
If it is the exposed breasts/implied sexuality that offend you, then I expect to see you no longer buy
Cosmo
or
Maxim
. I expect you to actively boycott any mall with a Victoria's Secret, Abercrombie and Fitch, etc. I expect you to never again play World of Warcraft, Grand Theft Auto, or even the Sims (any version, given the ability to install nudity hacks). I expect a heated letter-writing campaign any time a local TV news anchor wears a low-cut top.
Let's be consistent here, folks.
Breastfeeding is not sexual. The key word here is not
breast
, but feeding. That's another argument I've heard. "I don't want to have to explain to my child what you're doing." The heck is there to explain? "She's feeding her baby." I had to explain to my children a couple of weeks ago what was going on when a woman on the bus prepared a bottle of formula. Somehow we all survived the trauma. (For the record, although my kids have sometimes witnessed bottlefeeding, this was the first time they'd ever seen a bottle prepared. They had
no
idea what was going on.)
So, breastfeeding offends you. And? Formula feeding offends
me
when it's unnecessary (and let's be honest, most of the time it
is
unnecessary). We have no protection against offense.
And if you feel sympathy for the offended, just remember...something you do probably offends them too, whether it be your SUV, your gun, or your cross. It's not a game I, for one, care to play.